Dad and I – 1981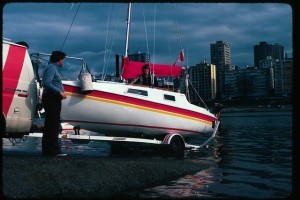 Jakob and I – 2010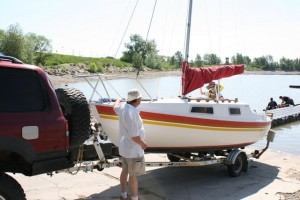 In the summer of 1979, dad and I took our 16′ Matilda on a road trip… We didn't know where we'd end up if I remember correctly. We had some adventures like running out of wind on Kootenay Lake and then pouring rain… So we paddled for hours to get to Nelson, where we were headed… Just before we got to Nelson, the wind picked up and started howling just as we try to pull into the dock. Inexperienced sailors that we were, we ended up coming in on a run, then having to jibe to make the dock. Come up head to wind but still too much momentum and smack the mast/forestay into the ramp. Did some damage to the coach roof but it was all good. Rather than have to possibly paddle all the way back to the campground, dad bought a used 4hp Evinrude. Our travels eventually took us to Vancouver and we spent a couple of days walking the docks looking at all the boats. We ended up at a San Juan 21 dealer and after a quick phone call to mom, we ordered a brand new SJ-21. With pin stripes to match our Ford Econoline 150; which I guess is something you did back in the 80s.
Next spring, our boat was ready for delivery. We drove out to Vancouver to pick it up. SJ-21, #2453. It was our first brand new boat. That summer, we added lots of stuff; a VHF marine radio, spinnaker, auto-helm, cooking aparatus, lots of storage a genoa, etc etc. We had a lot of adventures in that boat. Pictured here is us launching the boat again that summer under the Burrard Street Bridge. That's a 14 year old me standing in the hatch, and my dad grabbing the bow line and telling me how to start the motor (this is all from hazy memory).
We sold the boat a few years later and bought a C&C-25. I don't know who we sold the SJ-21 to but my dad recalls it was a family in the kootenays.
I'm 43 now, and have a family of my own. I'd been through a Laser and then a Fireball; each of which being boats that I had in my youth. As a 43 year old I realized I wasn't too into sitting in a wet cockpit or hanging my ass out on a trapeze anymore. My son Jakob enjoys sailing immensely so I figured something in a 20 foot cabin cruiser was a good size to transition to. A SJ-21 was high up on the list but I'd consider a 23 or a Santana 23 or something in that range that I could afford. I looked at a SJ-21 up at Sylvan lake in the spring of 2009 but the guy selling it was a scam artist. The ad read "awesome boat, recently faired keel and hull. Great condition. Overbuilt trailer – $4000" but upon arriving, the boat was half full of water, due to the many holes on the deck, cockpit floor, and transom no doubt; it was on flat tires (due to the water I'm sure), and one of the trailer bunk supports had rusted and broken leaving a rusty shard of steel poking into the hull. I gave up on my search after that realizing that if that's what $4000 buys, I couldn't afford a SJ-21.
Fast forward to spring 2010; I'm looking for SJ-21's again. Missed out on one up in Lacombe (sold before I arrived), looked at another one out at Ghost Lake (deck rot), and then an immaculate specimen that was sold to someone over the phone while I was sitting inside of it… Mightily discouraged, I resigned to give up for another year. After an aborted camping trip, I found myself hitting reload on Kijiji and lo-behold, was a for-sale ad for a 1980 SJ-21 with the same pin-stripes as our old one. I drove up to Caroline AB to take a look. It was our old boat! It had aged not too badly over the years. Still had our original sails and there was evidence a plenty that it had had lots of adventures in the intervening 30 years; but the deck was solid and the rest was stuff I can fix. I made an offer; the offer was accepted; and the next day after procuring a bank draft I met the seller in Red Deer to exchange boat for bank draft.
I went through the boat, found a few fiberglass repairs, a few new additions, and began itemizing all the things that needed repair:
rudder seperating
port bulkhead is rotted
windows leaking
wiring is a mess
extra useless or inappropriate fittings, some installed with steel bolts
broken cheek blocks
an owie on the starboard bow
too much silicon
broken instruments
trailer guides
new halyards
re-rig spinnaker
replace steel mast step
remove anti-fouling
new motor mount plate
some sort 'wow' in the pulpit
So now the adventure begins.
While sorting through untold numbers of previous owners worth of stuff, I found some interesting things:
some child's rock collection
a broken gooseneck fitting that I remember breaking at a regatta in 1981 or 1982.
bundles of department store wire with generic crimp fittings with thimbles. I wonder if someone replaced the stays at one point using home depot grade crap?
I forgot about these awards but Dad kept them. Looks like we got 1st place in the 1983 GYC Frostbite regatta.. There used to be a good 6 or 8 SJ21's in the fleet at that time.